Wildlife Recording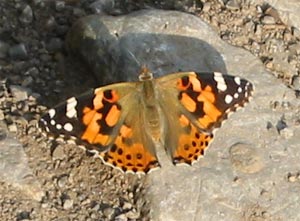 What is wildlife recording?
Quite simply, it is making a note of the wildlife you see at a particular place at a particular time. You could be recording the presence of Blue Tits in your back garden, butterflies at Wick Golden Valley, or if you were lucky, Otters on the River Boyd.
Why record wildlife?
For those of us interested in the wildlife around us, there are few better ways to get acquainted with the nature of a site than to write down the things you see there. Inevitably, as you look closer you will become aware of greater diversity, strange bugs and plants you don't ever recall seeing before, and you will become intimately familiar with the site you are studying.
In time, and if you study long and hard enough, you'll be able to impress your friends and family with your knowledge of when the first butterflies of the year can be seen, or where the best place for seeing kingfishers is.
With a Local Nature Reserve such as Wick Golden Valley, the association between people and place is very important; the wildlife recorder experiences a great deal of satisfaction and association with the place they are recording.
If you send the records of your sightings to Bristol Regional Environmental Records Centre, you will also ensure that your sightings are fully validated, verified and added to almost a million similar records which cover the old area of Avon. These records are used for important purposes every day, including helping to designate special sites, Biodiversity Action Planning, writing management plans and other such purposes.
Finally, if you look at the Maps section, you'll see maps showing Notable and Non-notable species – the majority of those records were collected by members of the public. You'll also see that large sections of Wick Golden Valley LNR have no species records as yet – all the more reason to find out what is there!
How do I record?
It's simple! For a record to be useful, BRERC need to know FOUR things -
WHERE it was seen – Grid reference and location, eg: ST 706731 Wick Golden Valley
WHAT the species was - eg: Blue Tit
WHO recorded it (with contact details) - eg: Mr Daniel Jones (daniel@jones.com)
WHEN it was recorded - eg: 25th July 2004
It is also helpful to know HOW MANY of the species you saw.
For most people, the most difficult aspect is the grid reference. If you need help with grid references, use this guide:

How To Do Grid References guide
If you know all this information, then you can write it down (and send a copy to BRERC), and thus build up a record of what you have seen over time. You may also want to take photos of what you see as a visual record.
NB: BRERC complies fully with the Data Protection Act and does NOT release names and addresses to third parties.
Going a little further...
If you are happy with using a computer, you may wish to enter your records into a spreadsheet format. To save time, BRERC have developed a spreadsheet template which you can enter your records into. When you have finished entering a particular batch of records, simply e-mail a copy of the spreadsheet over to BRERC (see the BRERC website for contact details). Using a spreadsheet means it is much easier to handle the data.
More details of how to go about recording wildlife and the services BRERC can provide to encourage and help you are available in BRERC's Local Patch Initiative - a complete guide to recording wildlife in your local area.

Local Patch Initiative
---
| Home Page | Main Wildlife Page | Contacts Page |