History of Nature Conservation
From demolition of the Ochre Works in 1970 to the designation as a Local Nature Reserve
---
For people who have only ever seen Golden Valley in its present state it is difficult to imagine what the environment was like in the past. Imagine how the landscape has changed - the quarry has created a massive hole in the ground whilst in Golden Valley itself a factory once stood where there are now trees and pleasant walks!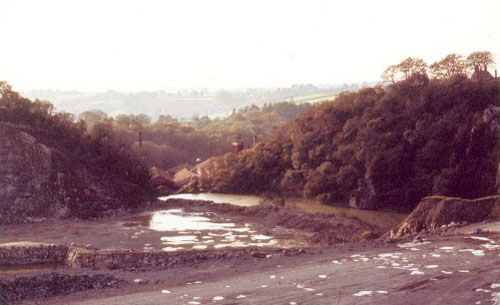 This old picture shows the quarry in the foreground
with the buildings of the Ochre Works just visible in-between
the trees. Note how the quarry has not been excavated to
anything like its present depth. You can also see the height
of the river prior to the lowering of the weir in 1968.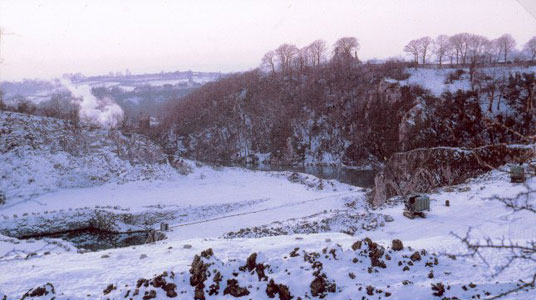 This wintry scene shows smoke rising
from the Ochre Works and Raven's Rock is also visible. Again, the lake
behind the weir is visible and the quarry has not been worked to any
great extent, although the excavations to the left of the picture
and the crane on the right suggest that the site's potential
for limestone extraction were being assessed.
After the demolition of the Ochre Works in 1970, the site was aquired by Cemex (formerly RMC Materials). It was then fenced off in the early 1970s. However, these fences fell into disrepair over the years and local people began to use the site for recreation purposes.
In many ways the lack of disturbance on the site during this period was a good thing, as it allowed the site to regain much of the naturalness that had been lost during the years of industrial usage. However, undesirable scrub growth on the important grassland areas and the lack of general management in terms of site maintenance, accessibility and health and safety meant that Wick Golden Valley was not all it could be, and had an unsure future.
Things began to change for the better in 2001 when South Gloucestershire Council intervened and funded the clearence of scrub from the grassland at Raven's Rock. This paved the way for closer working between RMC Materials (now Cemex) and South Gloucestershire Council, and the appointment of a consultant to write a fully-featured Management Plan for the site, to ensure that its key features would be protected and enhanced over a five year period. This management plan was completed in 2003 and guides the current management and conservation of the site.

Download Wick Golden Valley LNR Management Plan
The Access Agreement between CEMEX, formerly RMC Materials Ltd, and South Gloucestershire Council, giving people formal access to the former Ochre Works, was signed on 10 February. An official delegation comprising committee members of the Friends Group, officers from South Gloucestershire, our MP, Steve Webb, representatives from RMC and project funders, met for the official handover at the site.
The Council has now given approval to formally declare the site as a Local Nature Reserve, in recognition of its importance to wildlife and the local community.
---
| Home Page | Main History Page | Contacts Page |